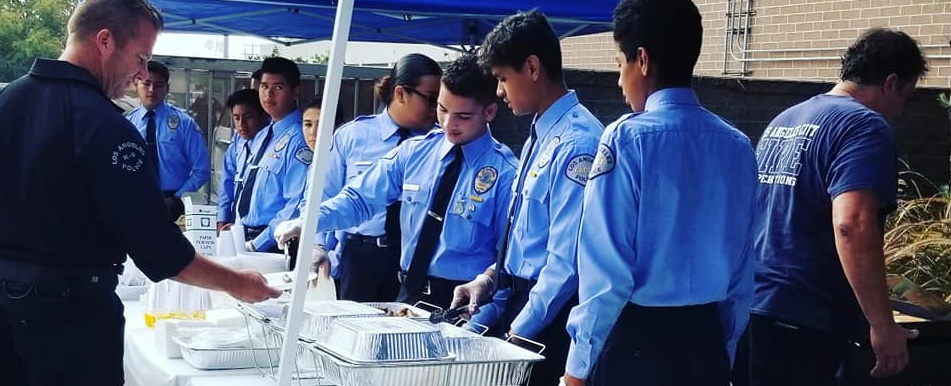 The purpose of the LAPD Cadet Program is to help instill discipline, leadership, academic excellence and life-skills in all youth participants. It also seeks to empower students to maximize their personal, scholastic and their life potential. It has four principle goals:
Recruit young men and women who want to build positive relationships between police and our youth. 

Provide a forum in which young people can provide community service while working with law enforcement.

Character-training, public-speaking & academic instruction that prepares our youth for their future.

Physical training that will result in improved physical fitness for all who participate in the program.
The Pacific Area LAPD Cadet Program meets at the station every Wednesday.  Activities include  basic calisthenics and drills to runs through the surrounding neighborhoods plus  time for studying.  This year they are learning to run and as they get their distances up, are attending actual 5K and 10K races!  Additional activies for our Cadets include:
Community duties:   "Presenting The Colors" at local organization meetings and gatherings, handing our flyers, helping at fairs and events as volunteers, etc. 

Paying opportunitites : Dodger Stadium duty!  Yes .. all the cadets throughout Los Angeles are invited on designated days to help hand out the gift of the day to all at the ball park and other various job assignment. 

Educational programs:  Traffic Safety School, 

Field trips: .
Cadets come from different backgrounds and have different goals. However, what remains the same in all Cadets is their desire to achieve excellence within their own lives and to then leverage those achievements to positively impact the community where they live. The Cadet Program is designed to offer each participant the opportunities to do just that … create and achieve goals successfully.
Cadets must meet the following conditions & requirements to be elegible for the program: 
Be between 13 and 18 years of age

2.0 GPA or above

Have no record of serious arrests or convictions

Maintain good moral character

Present a written recommendation from a teacher, faith leader or other responsible adult who is not a relative.

Obtain a medical examination (no serious medical conditions)

Attend and graduate from the Cadet Academy ( click on link to know all about the Academy)

Demonstrate a willingness to serve the community and participate in Cadet activities

United States citizenship is not a requirement to participate in any of the LAPD youth programs.
Join Us Now!  Click Here
You may also contact:
Officer Shaw [email protected] or Officer Bennyworth [email protected]