THE 40TH ANNIVERSARY OF
    N A T I O N A L  N I G H T  O U T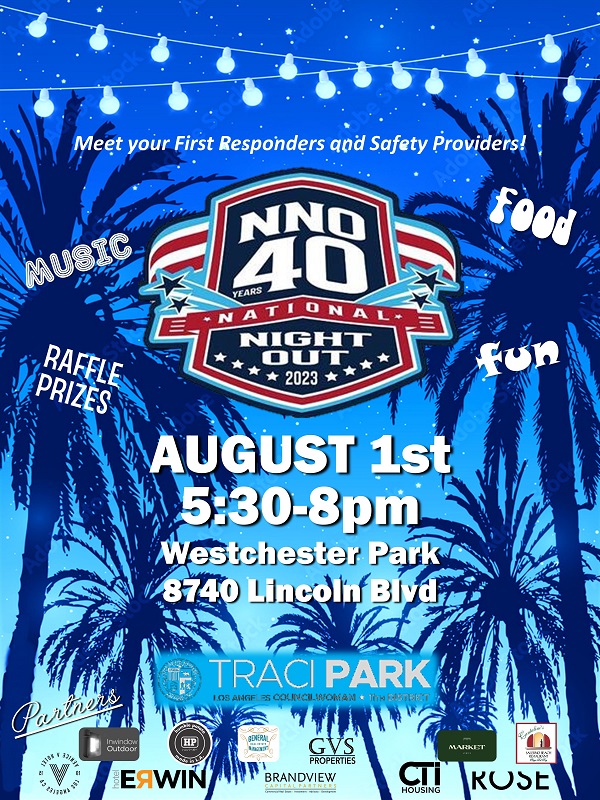 VISIT with our LAPD Pacific Officers and …
California Highway Patrol
Los Angeles City Attorney (AJI)/Be Creative (Diversion Program)
CD11 Representatives with a Traci Park drop by
CERT Battalion 4
USCG – United State Coast Guard
The FBI
LAPD Pacific Cadets
The Pacific Area Boosters Association
RAP
Westchester Park Advisory
LAWA – Los Angeles World Airport
LAPD Motors
LAPD Comms
LAPD Bomb/K-9
NCPW – Neighborhood Council of Westchester & Playa del Rey
MOA Wellness
Playa Venice Sunrise Rotary Club
USCG
7-11
Target
ENJOY FREE FOOD! 
Humble Potato
Cantallini's Salerno Beach
Cosco Hot Dogs
Subway Sandwiches
MUSIC FROM OUR FAVORITE PACIFIC AREA DJ 
DANCING ON THE BASKETBALL COURT
THANK YOU TO OUR SPONSORS
CD-11 Traci Park
Venice V. Hotel
Erwin Hotel
Market Venice
Inwindow Outdoor
General Real Estate Management
Brandview Capital Partners
GVS Properties
CTI Housing
ROSE Cafe
Cantalini's Salerno Beach
Humble Potato
BRING YOUR FAMILY, NEIGHBORS & FRIENDS!! 
WESTCHESTER PARK, TUESDAY, AUG 1ST   5:30PM  – 8:00PM
* * * * * * * * * * * * * * * * * * *
PHOTOS FROM NATIONAL NIGHT OUT, 2021
NATIONAL NIGHT OUT for our Pacific Area LAPD Officers and the communities they serve was a wonderful, fun, engaging, community "mutual" show of support evening that was enjoyed by all. We hope you were there to share in the spirit and energy that surrounded us from 6PM – 9PM at Penmar Park – a fantastic setting for the evening! 
Come celebrate the 40th Anniversary of National Night Out (NNO) with us. NNO is a free annual community-building event that promotes police-community partnerships and neighborhood camaraderie to make our neighborhoods safer, more caring places to live. It takes place on the first Tuesday in August, every year, in over 16,500 communities from all 50 states, U.S territories, Canadian Cities and military bases around the world.
NATIONAL NIGHT OUT IS DESIGNED TO: 
– Heighten crime & drug prevention awareness.
– Generate support for local anticrime efforts.
– Strengthen neighborhood spirit and police-community partnerships.
Also referred to as " America's Night Out Against Crime" we invite you to join us on August 2nd!
.
DONATIONS OF ANY SIZE ARE WELCOMED!
CLICK HERE